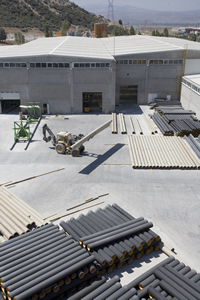 Derived from extensive pipe manufacturing expertise with its two concrete pipe manufacturing plants in Adapazarı and Manisa, ECETAS Construction Industry Incorporated has been servicing the infrastructure industry for more than 25 years.  With its new investments in state of the art machinery in various kinds of plastic pipes manufacturing, the following products are offered to Turkish and Global Market:  Polyethylene Pipes (PE100, PE80, PE63, PE80 Gas, Steel Wire Reinforced Thermoplastic PE100, Corrugated, Metal reinforced polyethylene) and GRP (Glass Fiber Reinforced Polyester) Pipes and Fittings, manufactured under EBS (ECE PIPE SYSTEMS) Brand.

Fully integrated modern manufacturing plant in Manisa consist of 7.500m2 covered area and 50.000m2 with its open area including the stock yard. Additional factory locations are under construction for undergoing new investments.  State of the art machinery in pipe manufacturing in Manisa will broaden the product portfolio of EBS resulting in an increased capacity in plastic pipe manufacturing. EBS one of the leading plastic pipe manufacturers in Turkey with such a diverse product portfolio. Especially SRTP (Steel wire reinforced thermoplastic) pipes and MRP (Metal Reinforced Polyethylene) pipes are two examples of EBS products only manufactured by EBS in Turkish market.

EBS proudly represents on of the most integrated plastic pipe manufacturing plant in Turkey and owes its success to following the latest developments in pipe manufacturing technologies. EBS Brand Pipes and Fittings fully comply with local and International Standards.